STÖJ SNAK is a ScreamerSongwriter quartet from Denmark playing a folky brand of troubadour-punk infused with plenty of raw energy and melodic catchiness.

Equal parts Dylan, Waits and Napalm Death boiled down to a folkpunk sauce delivered with heart and melodic surplus by the howling bard and his entourage of frantic street musicians - complete with acoustic guitar, washboard, double bass and stage diving.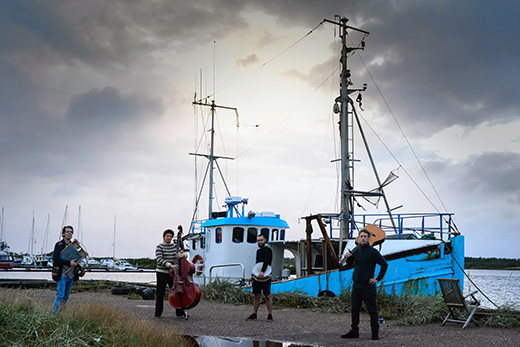 Since 2012, Stöj Snak has released 2 full-length records, 7 EPs and 2 video game soundtracks.

The band has deep roots in the European underground and counts of members of MIGHTY MIDGETS, COLUMBIAN NECKTIES, BATHOLIT among others and also help run the label 5FeetUnder Records. Musically Stöj Snak has been shaped by the alternative music scene and the creative attitude found within this community.

A molotov cocktail of indignation, potent washboard and a melodic tenderness fueled by rebellion and an idealistic faith in a better future.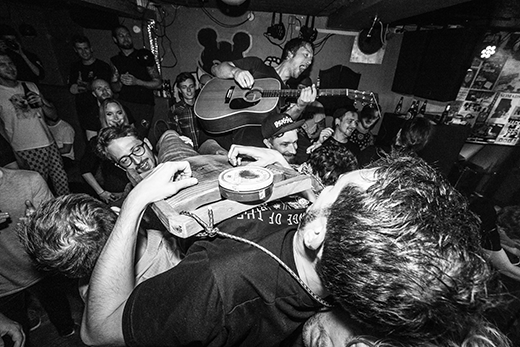 Life, Death and Everything in Between
LIFE, DEATH AND EVERYTHING IN BETWEEN is Stöj Snak's second full-length album. Released four years after the debut, this album completes the transition from one-man-band to four-piece and sees the band pushing it's folkpunk sound up a notch, blending in almost thrash-sounding riffs and plenty of screaming while still maintaining a catchy, melodic edge in the songwriting on the more action-packed songs such as TREES and FIRE. But the album also ventures in a more experimental and tender direction on the piano-driven SONGS ABOUT BELIEFS and the closing 11 minute title track.
The lyrics also remain an integral part of the songs. And while the album (like its predecessor) has a great deal of social commentary, the lyrics this time take a more personal approach and tackles how our culture and societal structures affect us all on a more intimate level (e.g. THE (NOT SO) GREAT DEPRESSION and the sarcastic SENSIBLE UTILITY)."
Singer/songwriter Niels Højgaard Sørensen has the following to say on the album's lyrical themes: "The songs on this album seem to circle around family and relationships in the modern, societal structures and how we, the inhabitants of these systems, are affected by them. How the constant chase after validation, possessions and careers constantly diverge our attention from the people and moments that are the most important to us. And make us forget ourselves."
On the record, the Stöj Snak has mixed the melodic and acoustic aesthetic from folk with the political engagement, raw energy and anarchistic approach from punk into 12 uncompromising and yet catchy songs.